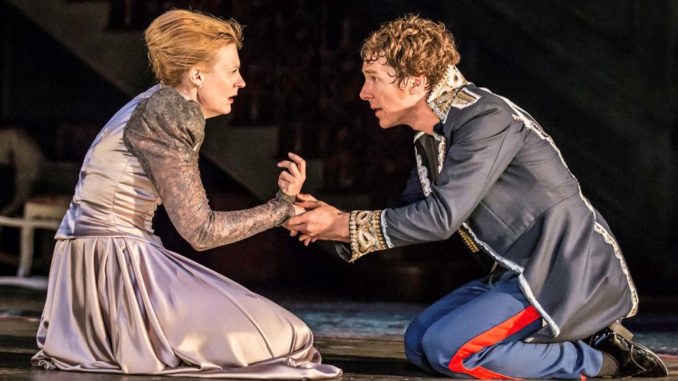 Londres,  (EFE).- El británico Benedict Cumberbatch y la australiana Nicole Kidman parten como principales favoritos en la 40ª edición de los premios Olivier, los galardones más prestigiosos del teatro del Reino Unido que se entregan mañana en Londres.
La interpretación de Hamlet, el personaje más alabado de William Shakespeare, vestido para esta versión con ropa de calle moderna le ha dado a Cumberbatch su tercera nominación a estos premios.
El británico, de 39 años, se sitúa en primera línea para ganar el que sería su segundo Olivier como mejor actor después de llevárselo a casa en 2012 por su papel en «Frankenstein».
En la carrera por este reconocimiento le acompaña un duro rival, el actor y dramaturgo Mark Rylance, de 56 años, que recientemente ganó un Oscar por su interpretación en la cinta «Bridge of Spies» y que opta al Olivier por «Farinelli And The King».
Los dos actores se medirán en la Royal Opera House de la capital británica contra Kenneth Branagh («The Winter's Tale»), Adrian Lester («Red Velvet») y Kenneth Cranham «The Father»).
Una de las australianas más famosas de la gran pantalla y conocida por cintas como «The Hours», «Eyes Wide Shut» y «The Others», Nicole Kidman, centró toda la atención tras conocerse su nominación por su aclamada interpretación en «Photograph 51″, por la que ya ha ganado diversos premios.
La pelirroja de 48 años tendrá que imponerse en el Olivier por mejor actriz a sus compañeras Gemma Arterton («Nell Gwynn»), Denise Gough («People, Places And Things»), Janet McTeer («Les Liasions Dangereuses») y Lia Williams («Oresteia»).
Con su decimoquinta nominación, la consolidada intérprete Judi Dench aspira a ganar su octavo Olivier esta vez por su papel secundario en «The Winter's Tale».
De 81 años, Dench es la actriz que más premios del teatro británico cuenta en su poder -7 en total-, mismo número de galardones que tiene en su estantería el compositor teatral Andrew Lloyd Webber.
Reconocida por sus apariciones en películas de James Bond o «Pride & Prejudice», Dench compite con Michele Dotrice («Nell Gywnn»), Melody Grove («Farinelli And The King») y Catherine Steadman («Oppenheimer»).
En la misma categoría en el apartado masculino se encuentran nominados Mark Gatiss por «Three Days In The County», Michael Pennington por «The Winter's Tale», Tom Sturridge por «American Buffalo» y David Suchet por «The Importance Of Being Earnest».
Las piezas «Farinelli And The King», «The Father», «Hangmen» y «People, Places And Things» lucharán por conseguir uno de los premios más ansiados, el de mejor nueva obra teatral.
A mejor «revival» optan «Hamlet», protagonizada por Cumberbatch, «Les Liasons Dangerouses», «Ma Rainey's Black Bottom» y «The Winter's Tale».
La lista de nominaciones la lideran los musicales «Gypsy» y «Kinky Boots» al anotar ocho y siete respectivamente.
En este género, las favoritas del público «Bend It Like Beckham» y «Kinky Boots» pelearán por el Olivier a mejor nuevo musical junto con «Mrs Henderson Presents» y «In The Heights».
La ya mítica «Seven Brides For Seven Brothers» se enfrenta por el premio a mejor musical «revival» a «Bugsy Malone», «Guys And Dolls» y «Gypsy».
La reputada actriz Imelda Staunton, conocida por «Shakespeare In Love» y por encarnar a la temida profesora Dolores Umbridge en «Harry Potter and the Order of the Phoenix», podría ganar su cuarto Olivier por su personaje Mama Rose en «Gypsy».
Además de Staunton, Tracie Bennet («Mrs Henderson Presents»), Natalie Dew («Bend It Like Beckham»), Laura Pitt-Pulford («Seven Brides For Seven Brothers») y Sophie Thompson («Guys And Dolls») están nominadas a mejor actriz de musical.
En el terreno masculino, el premio se lo disputarán Ian Bartholomew («Mrs Henderson»), Killian Donnelly («Kinky Boots»), David Haig («Guys And Dolls»), Matt Henry («Kinky Boots») y Jamie Parker («Guys And Dolls»). EFE
rsm/ad/rml